SINGASCAPE is a personal project started in 2014. We are into the third year and third version of the infographic, which serves as a visual aid to help folks learn more about the different players in Singapore's startup scene. You can toggle between the three versions in the gallery below, and you might also find the recap of the happenings in 2015 helpful.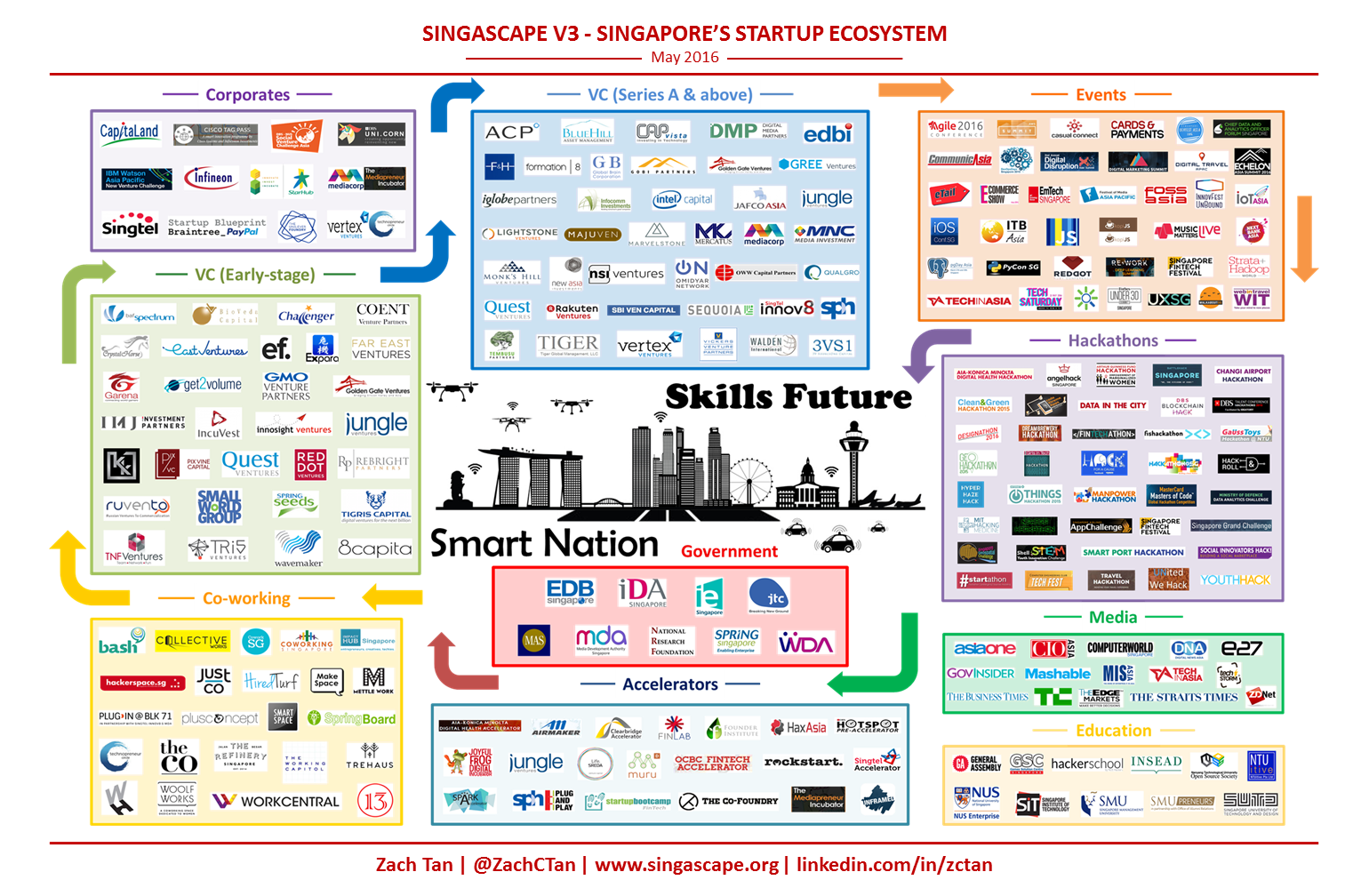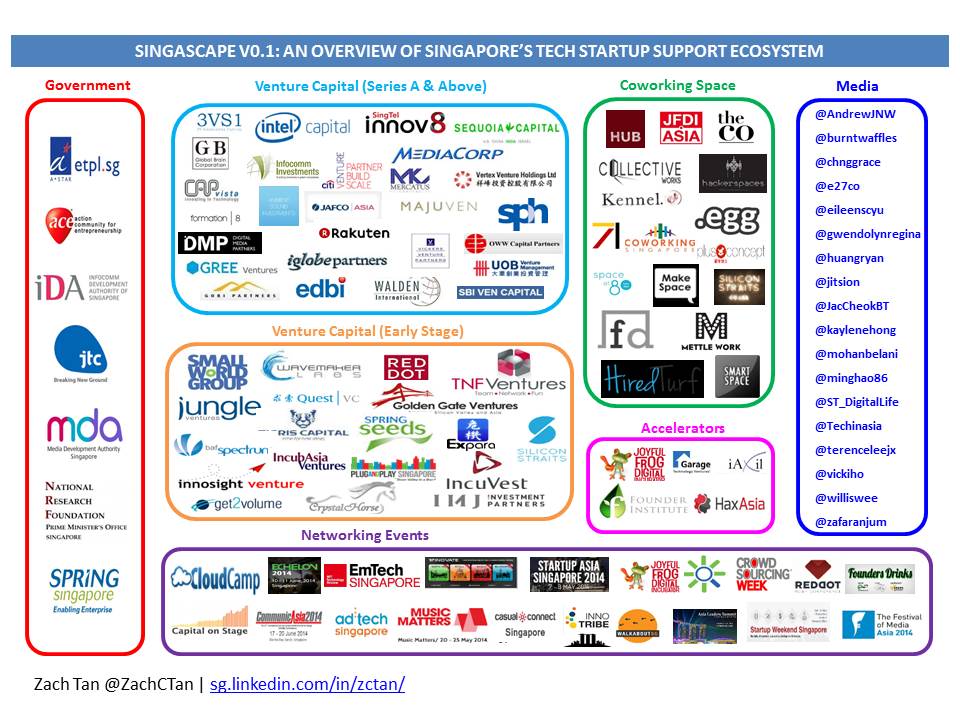 VC funding reaches the magic billion in 2015, a 64% increase from a year ago
Based on tracking of publicly available data, US$993.85 million of venture capital were deployed into Singapore-based (ICT) tech companies in 2015 (US$1.03 billion if we include 2 biotech deals). While this represents a 64% increase from 2014's figure of US$604.57 million, looking at the aggregate figure alone, however, could be an insufficient proxy for the breadth and depth of the scene. One of the reasons is that the aggregate number is driven in large part by a small number of deals scoring big funding rounds of US$50 million and above. A closer look at the data reveals several interesting trends.
Deployment of funding could be more balanced: 92 companies raised money but top 10 accounted for 84.2 percent of the pie
A total of 92 companies raised venture funding across 101 transactions. Of the 82 transactions where funding data is available, the top 10 companies accounted for the lion's share (84.2 percent). Between them, they secured US$833 million in 2015. In comparison, according to the National Venture Capital Association, US companies raised $58.8 billion of venture capital in 2015, and the top 10 US deals accounted for a more balanced 19 percent of total in the second half of 2015.
Expectedly, e-commerce, marketplace, transportation and information portals continue to dominate Singapore's funding scene at US$580.62 million (58.4 percent of deployed funding) across 38 deals (37.6 percent of all deals).
Here are Singapore's top ten in 2015. You can view the full dataset here.
TOP 10 Startups in 2015 in terms of funding raised
Additionally, the data also revealed the following, which may not come as a surprise given Singapore's role as an international business hub:
Syndicate rounds comprising SG-based and international investors are the norm. Of the 90 transactions where investors' data is available, 38 deals involved collaborations between Singapore-based and international investors, 33 deals were done entirely by international investors, and 19 deals entirely by Singapore-based investors.

Singaporean founders have a little catching up to do at the top league. Founder scene in Singapore is very international. Of the 92 companies which received venture funding, 49 had international-only founders, while 43 had Singaporeans on the founding team. However, at the top of the league, only 2 out of the TOP 11 companies had Singaporeans on the founding team (Honestbee and MyRepublic).

Regional tech companies are using Singapore as their HQs once they hit a certain scale. This is apparent in the TOP 10 where 4 out of the 11 seem to have been transplanted into Singapore. Like many big tech companies with mainly sales and marketing functions, these regional startups (or more appropriately, scale-ups) are drawn to the ease of doing business in Singapore. They include Grab (Malaysia), InMobi (India), Antuit (India) and Capillary Technologies (India).
Tango between corporates and startups
2015 was a year where the corporate world continued to swap cuff links and ties for T-shirts and jeans. It felt as though everyone had become a startup and innovation convert and expert overnight, with the favourite engagement models being hackathons and accelerators.
In the financial sector, DBS had a head start, but other major local banks were not far behind. UOB launched FINLAB, and OCBC followed shortly after with Open Vault. At last count, Singapore currently boasts of at least 5 similar fintech accelerators (the aforementioned new ones, Startupbootcamp Fintech and Life.SREDA). Other new corporate accelerators include SPARK (Singpower), AIRMAKER (Ascendas-Singbridge, Runyang Group), and Digital Health Accelerator (AIA-KONICA MINOLTA).
While the interest from these established companies is encouraging, the jury is out on the sustainability and benefits of the current model of engagement with startups. This has stirred valid debates on the efficacy and purpose of these programmes such as the one between Migme, Orami Group, Braintree, and DBS Bank during the recent Tech in Asia Singapore 2016.
Steve Blank, serial entrepreneur and developer of the Customer Development Methodology that launched the Lean Startup Movement, has this to say to corporates thinking about their innovation strategy.
"...people who are best suited to search for new business models and conduct iterative experiments usually are not the same managers who succeed at running existing business units. Instead, internal entrepreneurs are more likely to be rebels who chafe at standard ways of doing things, don't like to follow the rules, continually question authority, and have a high tolerance for failure..."
Bumper crop of accelerated startups seeking funding
The proliferation of accelerators and similar platforms in Singapore has created a pool of startups who are seeking funding post programme. As of the first quarter of 2016, there were at least 96 "accelerated' startups in Singapore since 2015, and 7 of these have gone on to raise post-graduation funding based on publicly available data.
By definition, any platform that is investing and providing sound guidance and network to startups is positive. However, it is important to note that not all accelerators are created equal. Globally, f6.com tracks more than 840 of them. Y-Combinator, is arguably the most successful (if not the only successful programme from a returns perspective). The majority of the rest would most likely fail. Both Singaporean companies who got into Y-Combinator in 2015 (TechinAsia and Xfers) went on to raise venture funding successfully after the programme. For the rest, it remains to be seen.
Putting the pedal to the metal: Moving from product-market fit capital to venture capital
The startup scene in Singapore has come a good way over the past 5 years, but the state of the ecosystem is still nascent and rapidly evolving. While reaching the US$1 billion mark of venture capital in 2015 is a good development, there is still a long way to go. At the macro level, there are areas which could clearly be better. I mentioned one at the start about the distribution of venture funding, which could be more balanced across companies and sectors.
An investor I met once remarked that there are 3 categories of startups:
Startups replicating proven business models
Startups solving problems specific to a local market
Startups going after big ideas that are scalable and are often heavily technology-based
He went on to add that in Singapore, anecdotally, out of 10 startups, the ratio of startups belonging to categories 1 to 3 is approximately 6 to 3.9 to 0.1 respectively, the third category being the most elusive.
Without wading into the chicken and egg debate around which comes first, quality startups or venture capital, there are two recurring themes which often surface when I interact with Singapore startups and investors. Startups feel that "venture" capital in Singapore is more like "product-market fit" capital. And investors tell me there aren't enough deep-tech startups to invest in Singapore.
Given our strong investments in STEM-education and R&D over the years, Singapore should be seeing more of the third category of startups, and accordingly, the appropriate mix of venture funding that reflects that. We have a strong tail wind at the moment. It is now time to do more, not less, and this, in my opinion, is going to be key as Singapore transforms its economy towards the Smart Nation and Skills Future vision.